In March 1857, when Vámbéry left his country for the first time, he also opened a new chapter in his life, as the period of private tutorship, practised since his student age, came to an end – at least in his homeland. The idea of traveling to the East was matured by him under the influence of his readings, and his modest savings gave him hope to a change. His journey to Constantinople, which has become a reality thanks to the support of his patrons, primarily of József Eötvös, who recognized his talent,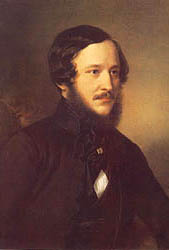 1 offered an outbreak from his situation. The unparalleled amount of knowledge, absorbed from the books he read in a dozen of languages, provided with a considerable theoretical framework the young man driven by curiosity, who now had the opportunity to study a foreign culture in its real context. The Turkish language, which he could not practise at home, now surrounded him as a living language.

Vámbéry set out by ship along the Danube, and arrived through the port city of Galați and the Black Sea in the Ottoman capital. His talent of languages attracted the attention of his fellow travelers already on the way: on one occasion he won the confidence of a Muslim traveler by reading aloud a portion of the religious handbook Kirk Sual (Forty Questions).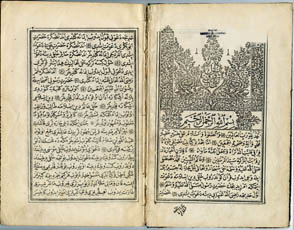 However, the unpredictability and uncertainty of day-to-day existence followed him since the moment he landed in the Galata neighborhood of Istanbul. As he wrote in his memoirs: "I had no idea where I would stay and, completely penniless, how I would make my living in this strange city." 2

He owed a lot to the Hungarian emigrants, who were informed about his journey from the Hungarian newspapers. Among the several Hungarians in Istanbul, he first met a certain "Mr. Püspöky" 3 immediately after his landing in the city, who also helped to resolve his problem of accommodation. Vámbéry also mentions the names of several Hungarian emigrants as his supporters, including István Türr (1825-1908), Sándor Veress, Balázs Orbán (1829-1890) and Lajos Splényi (1817-1860). 4 His most important Hungarian connection was probably his friendship with Dániel Szilágyi. In the years after the Crimean war, this former hussar officer, who emigrated to Constantinople in 1849, operated an antiquarian bookshop,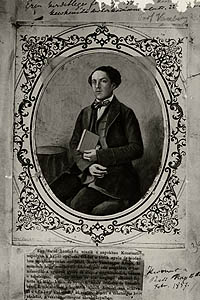 where he passionately collected Turkish books and manuscripts. Although there is no clear evidence, it is assumed that Vámbéry seized a part of his Oriental manuscripts through the mediation of Szilágyi. When this latter died in 1885, Vámbéry called the attention of the Hungarian Academy to his legacy of unparalleled value, and his manuscripts were purchased in 1886 with Vámbéry's cooperation.

His relationships developed with the members of the Ottoman political elite were even more important than his good relations with the Hungarians living in Istanbul. His interest in everyday language and behavior, his quick comprehension and literary erudition helped him to win the confidence of the Turks, and to develop relationships leading to the highest circles of the Ottoman political elite. In his memoirs he remembers like this: "The more I got acquainted with this new moral system and the deeper I penetrated into the ways of living and thinking of Oriental people,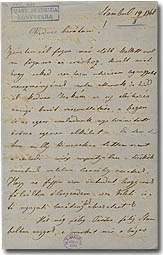 the larger the circle of my acquaintances became, and the easier the doors opened before me, not only in the houses of the simple officers, but also in those of the high and highest dignitaries."

The possibility of rapid social success had a liberating effect on him, because unlike in his country, "in Turkey the born aristocracy is unknown". 5 As he wrote in a letter to József Budenz at the beginning of his second journey, on 19 August 1861: "I did not know how great treasures I gained in the troop of the real مؤمنين 6 : the Turks love me, really, intrinsically love me." 7